Scenes from concert on September 13, 2004.
1) The Shanghai Quartet warms up for the concert.

2) Iraqi pianist Hassan Al-Mufti.

3) Members of the Gerard Edery Ensemble.

4) Albanian singer Justina-Marie performs with
Musique Sans Frontières.

5) Anna Polonsky, Arnold Steinhardt, Peter Wiley, and Michael Tree perform Dvorák's Piano Quartet No. 2 in E-flat.
6) Violinists Weigang Li (left) and Arnold Steinhardt (right) relax with luthier Dov Buck at the post-concert reception.
All photos by Mark Rabinow.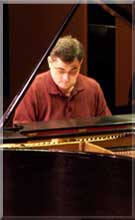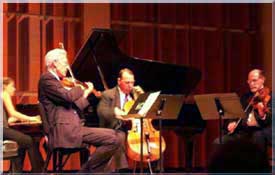 1
2
3
4
5
6