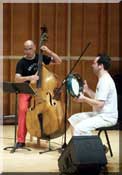 Scenes from concert on September 13, 2005.
1) Patrick Derivaz, Musicians For Harmony's Artistic Director (left), warms up with percussionist Benny Koonyevsky.

2) Bouzouki virtuoso Avram Pengas.

3) Siamak Jahangiri, ney player.

4) The Knights string orchestra after after a performance of
Hossein Alizadeh's Ney Nava.

5) Musique Sans Frontières: Colin Jacobsen,Rubin Kodheli, Siamak Jahangiri, Avram Pengas, Benny Koonyevsky, and Patrick Derivaz (l-r).
6) Arnold Steinhardt, Anna Polonsky, and Peter Wiley take a bow
after performing Beethoven's Piano Trio in E-flat.

7) Patrick Derivaz and Avram Pengas at the post-concert reception.
Photos by Mark Rabinow.
1
2
3
4
6
7
5