Letter from Erbil, Iraq
by Allegra Klein
July 24, 2007
It's over. Flying home from Iraq to New York, high above the Atlantic with the sparkling blue water peeking through the clouds, I am filled with emotion. The thrill of these last 10 days – perhaps the most rewarding and gratifying experience of my life – is tempered only by the sadness of leaving it all behind.
Witnessing the progress and joy of over 300 Iraqi musicians and dancers during the first-ever National Performing Arts Academy in Iraq has been a priceless privilege and inspiration. To be called "Teacher" (in three languages, no less – Kurdish, Arabic, and English) brings back memories of when I taught violin full-time, and of that special satisfaction and sense of accomplishment that surpasses all other types of professional endeavors.
And this was the best kind of teaching, to open hearts and curious minds, to people who are hungering and thirsting for more. It was the first time that Americans came to their part of the world to engage them in serious musical and dance studies. Artists and students from all over Iraq – Baghdad, Erbil, Rania, Dohuk, Suleymaniya – were filled with wonder and anticipation for this opportunity, and seemed to revel in the brief respite from the harsh conditions to which they've grown accustomed.
Organized by John Ferguson of American Voices in conjunction with the U.S. Department of State, the Kurdish Ministry of Culture, and several performing arts groups in Iraq, this historic summer academy took place in the relatively safe Kurdish city of Erbil in northern Iraq from July 13 – 23, 2007. Participating teachers included Demetrius Fuller and David Handel (conductors), Marc Thayer and myself (strings), Eugene Aitken and Werner Englert (jazz/winds/brass), Michael Parks Masterson and Quae Simpson (dance), and Carole McCann (musical theater).
The Erbil Players
Over the course of just 10 days, I watched the Erbil String Orchestra – a motley group of rudimentary and intermediate-level string players, who have been without a leader and "on strike" for years now – learn Bach's Air [from the Suite in D Major] from start to finish and perform it in front of a live audience. The astonishment and delight on their faces that first day, when they discovered they could actually play the opening four measures after we spent an hour and a half putting it together, was an early clue that we were making a real difference with our Iraqi friends. This is the type of "shock and awe" we should aim for all the time…
And it just got better from there, as the Erbil violinists started to replace bad strings with the new ones we'd brought, the cellists figured out how to produce makeshift "rock stops" with their belts to keep their endpins from slipping, and all the musicians gradually reacquainted themselves with their instruments. Leaders began to emerge within each section, and even their principal cellist – an especially gifted musician, who was skeptical at first and only sporadically showed up for rehearsals – eventually took ownership of his position within the orchestra and became a revered teacher himself.
The whole orchestra learned how to set up correctly, how to tune without their electronic tuner (which they'd been worshipping as if it were the "goddess of pitch"), and how to conduct themselves during a concert. By the time of our final performance in front of hundreds of eager listeners, they had become a seasoned and unified group who took great pride in their ability and accomplishments.
Youth Orchestra – in Iraq?
As for my little "Iraqi Unity Youth Orchestra," I could not have asked for a sweeter or more willing group of youngsters. This 20-piece ensemble was comprised mainly of the most gifted students from the Music and Ballet School in Baghdad, but also included some string players from Erbil and Suley (our nickname for "Suleymaniya"). They were so excited to be there, and many were quite talented. I fell in love with all of them, and they have become my pride and joy.
The students from Baghdad came prepared with a piece called "Variations on an Iraqi Folk Tune," arranged by a former M&B School teacher named Agnes Bashir. This was a wonderful opportunity for me to learn more about their native music, while coaching them on the finer points of intonation, phrasing, and ensemble playing. I also learned a lot from another of their former teachers, a violinist named Majid Al-Ghazali whom I had met during my first trip to Baghdad in November 2003, and who came all the way from Amman, Jordan, where he now lives, to help the young string players.
After mastering the folk tune, we tackled an arrangement of Beethoven's "Ode to Joy" from his Symphony No. 9 and even a medley of Leroy Anderson songs – all enthusiastically embraced by these eager young musicians. At the final concert, they performed like a professional orchestra, with the shy young principal violinist, in her traditional Muslim hijab, proudly making her début as the concertmistress of the group. It was a moment I will cherish forever.
Suzuki training, Iraqi-style
In addition to working with these talented but already advanced students, I wanted to introduce the musicians gathered in Erbil to a teaching method for "baby" beginners. The Suzuki violin method is a standardized training system which enables children of all abilities and backgrounds to begin musical studies as early as age three. Formulated in Japan and now widely used in the U.S. and Europe, the Suzuki method revolutionized classical violin teaching, and I hoped that Iraq would become the first country in the Arab world to take hold of this amazing and highly effective training program for small children.
John, our fearless leader, suggested I give a lecture on the topic to the string teachers. I had no idea what kind of reception to expect, but with my "props" (a tiny 1/16-size violin, some teaching books, and audio CDs), a dual Arabic/Kurdish translator, and just a few sketchy notes, we were able to generate quite a bit of excitement. Hundreds of musicians attended the lecture, and dozens rushed the stage afterward hoping to become one of the first teachers in the program. In fact, the frenzy that ensued over who should sign up for training and who should receive the limited quantities of Suzuki materials that I'd brought plagued me for the rest of the week, and was only heightened after we screened the Suzuki film, Nurtured by Love, a couple of days later.
While it was gratifying to witness the enormous excitement and enthusiasm for the Suzuki training – from all quarters, including Baghdad, Erbil, Suley, Rania, etc. – I was also concerned that many did not truly understand the long-term commitment needed to master this teaching method (it took me nearly two years!). They all wanted to get started right away, perhaps because of the ephemeral nature of their fragile existence in a war zone. Although we were not prepared for this, it was quite heartening to see such a tremendous response. I hope we are able to follow through with proper teacher training and more materials in the coming months.
Tangible results
The culminating concerts during the last two days of the Performing Arts Academy were a testament to the dedication and hard work of all the participants and teachers during the eight days prior. How incredible it was to see the fruit of all those 12-hour days, and know that the participants had such a splendid showcase for their efforts! The first performance featured jazz and folk musicians and several types of dance – ballet, folk, children's theater, and even hip hop. The second was entirely orchestral, featuring the Iraqi National Symphony Orchestra, the Erbil and Suley String Orchestras, the Iraqi National Youth Orchestra, and the Iraqi National Unity Orchestra.
This last group was a huge symphony orchestra made up of all the other orchestras combined – a whopping total of 130 musicians from all over Iraq, plus myself and violinist Marc Thayer, the other string teacher from St. Louis, altogether on one huge stage. All four conductors – Demetrius Fuller (Florida), David Handel (Bolivia), Mohammed Amin Ezzat (Baghdad), and Najat Amin (Suleymaniya) – took turns conducting. This was a monumental experience, representing the unity and harmony of many religious and ethnic entities – Shi'a and Sunni, Christian and Muslim, Kurdish and Arabic, young and old – all coming together in one grand finale for peace. It was a sight to behold.
The flurry of press and political dignitaries was no less impressive. Reporters from at least a dozen Arab and Kurdish T.V. and radio stations were there, as were the Kurdish Minister of Culture and the U.S. Deputy Ambassador to Iraq, Patricia Butenis, who came all the way from Baghdad to attend the final concert. She seemed interested in my idea to bring the Iraqi National Unity Orchestra for a tour of the U.S. next year, and I hope to continue this dialogue with her and others from the States. But it was Carole McCann, our musical theater specialist from Houston who worked with the youngest children, who best summarized our experiences to the visiting dignitaries: "Children everywhere need love, and we should give it to them because they put the smiles on our faces."
The "rock star" treatment our staff received was another surprise aspect of our time in Erbil. I have never posed for so many pictures nor signed so many autographs in my life. Should one of the teachers slow down long enough in one place, someone would rush up with a camera and ask to have a picture taken with them. And as soon as others saw this, a line would form for them to do the same. Many of our Iraqi friends also gave us gifts at the end, in spite of the hardship of their lives – another indication of their generous and selfless natures. It was hard to believe they had the means and presence of mind to do this, but it meant a lot to us.
Not all was a bed of roses for us in Erbil – there were several challenges and hardships along the way. We faced daily 40-minute commutes, complete with checkpoints, in an un-airconditioned van to and from our "fortified" hotel on the outskirts of the city. There were also regular searches of person and property, the ever-present Kurdish peshmerga (militia) with their AK-47's, brutal heat (upwards of 120 degrees Fahrenheit), electricity and air conditioning that kept coming and going, inadequate local staff to help with lighting, stage setups, and translating, erratic scheduling on "Iraqi time" (i.e., constantly late), and a lack of proper facilities.
And in spite of bringing more than 35 boxes of music, instruments, and supplies donated by generous friends back in the U.S., we still fell woefully short of the tremendous need of the Iraqi musicians and dancers. They crave so much more, especially good teachers and orchestral conductors who are available year-round for high-quality musical and dance training. Several of the youngsters also deserve a chance to go to Europe or the U.S. for serious professional studies.
What's more, I worry about what will happen to them now – will the Erbil orchestra move ahead with their work or go back on strike? Will a conductor come forward to lead them, or will they revert back to their "anarchic" state? What will happen to the lovely children of Baghdad? Will they get the education they need, and will we be able to make good on our promise to train the Iraqi teachers in the Suzuki method?
New friends
Our time with them is over – for now, at least – but it's also just the beginning. "Insha'allah" (let us hope) we will have the opportunity to return there next summer, and maybe even sooner, so that these talented and kind-hearted souls know we really do care and will not forget them. And in the meantime, we will stay in touch with one another and keep the promise and hope of music alive between our two worlds.
…………………………………
Postscript. Upon returning home, I received this email from Zuhal Sultan, the 16-year-old pianist in the Iraqi youth orchestra:
"Just wanted to say hi and to tell you that me and my friends are back safely to Baghdad (thank God) only to find that there was an explosion near my house and my room was full of shattered glass from the broken windows, but thankfully no one was home when it happened so no one got hurt...
All of us miss u here sooo much from the day we arrived to Baghdad, and I just wanted to say that those few days that we spent with u were truly the best of our lives and we won't forget this experience as long as we live ... not only becuz we learned alot from you but we had a good time doing that."
Allegra Klein works with the Erbil String Orchestra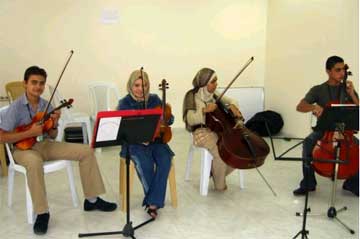 A string sectional with members of the Iraqi Unity Youth Orchestra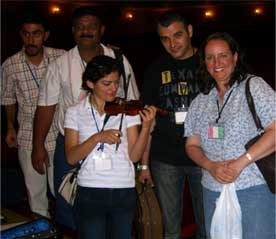 Donating a 1/16-size violin to Annie Melconian, for her work with children in Baghdad
The Iraqi National Unity Orchestra, led by Mohammed Amin Ezzat (of the Iraqi National Symphony Orchestra)
l. to r.: Allegra Klein, Demetrius Fuller (conductor), Kim DuBois (Cultural Attache from Baghdad Embassy), Patricia Butenis (Deputy Ambassador to Iraq), and Tania Azia (Baghdad Embassy)
Allegra Klein surrounded by her newest friends – the students of the Iraqi Youth Orchestra
NOTE: IF TEXT FLOWS OVER INTO THE BOTTOM SECTION, DECREASE THE TYPE SIZE IN YOUR BROWSER. THIS OPTION IS OFTEN FOUND UNDER THE "VIEW" HEADING OF THE MENUBAR.