Hassan Al-Mufti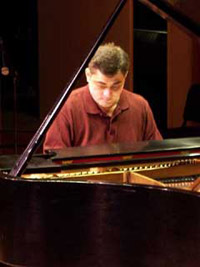 Pianist Hassan Al-Mufti is an Iraqi refugee who entered the United States in September 2001, under the auspices of the United Nations Council on Human Rights. Mr. Al-Mufti was born and raised in Baghdad and began to study piano at the age of six. He showed great talent and through years of study became an accomplished concert pianist. His desire to study at Juilliard in New York City was forbidden under Saddam Hussein's government. Mr. Al-Mufti was a well-known concert pianist throughout Iraq, but when he refused to perform for Saddam, he was prevented from playing anywhere in Iraq. He subsequently moved to Amman, Jordan, looking for a peaceful environment where he could continue to work as a concert pianist. While in Jordan, Mr. Al-Mufti played for Queen Noor and the royal family, the Jordanian Diplomatic Corps and the American Ambassador to Jordan.
Since coming to the United States, Mr. Al-Mufti has been working to raise funds for the Music and Ballet School in Baghdad (of which he is a graduate) and the Iraqi National Symphony Orchestra, as well as on behalf of Iraqi children. To this end, he has played benefit concerts in New York in Albany, Batavia and Buffalo, as well as in Chicago and San Francisco. Mr. Al-Mufti currently teaches and resides in Buffalo, New York.
Kinan Azmeh
Described as a "virtuosic, unique sound" by the Daily Star and "Engagingly flamboyant" by the L.A Times, Kinan Azmeh is gaining the reputation of being on of Syria's new rising stars.

Born in Damascus, Syria 1976, Kinan is the first Arab to win the first prize at the Nicolay Rubinstein international competition in Moscow, Russia, 1997, a graduate of the Juilliard school in New York and the High institute of music and the Faculty of Electrical Engineering in Damascus, Syria, He is currently working towards his doctoral degree at the city university of New York studying with Charles Neidich.

Kinan has appeared as soloist and composer worldwide, such appearances include Opera Bastille in Paris, Tschikovsky grand hall in Moscow, Carnegie and Alice Tully halls in New York, Royal Albert hall in London, Teatro Colon in Buenos Aires, Berlin Philharmonie Hall, The Kennedy Center in Washington DC and the Damascus Opera house for its opening concert. He has played under reputed conductors such as Solhi al-Wadi, Roger Norrington and Daniel Barenboim, and shared the stage with artists such as Mari Kimura, Marcel Khalife, Elliott Sharp, Katia Tchemberdji, Kani Karaca and Kevork Mourad.

C

ompositions include several works for film, live visual arts, Solo, Orchestra, chamber music and electronics and his recordings include two albums with his ensemble HEWAR, and several sound tracks for film and dance.

Kinan is the artistic director of the Damascus Festival Chamber Music Ensemble.
Omar Bashir
Omar Bashir was born in 1970 in Budapest, Hungary. He started playing the oud at 5, next to his father, Munir Bashir, the Iraqi virtuoso who first made the oud a solo recital instrument and popularized it in the West. At 7, Omar Bashir joined the Baghdad Music and Ballet School. He would eventually become a teacher there and set up his own band of 24 musicians specializing in traditional Iraqi music. They performed regularly across Egypt, Russia, Turkey and many Arabic countries.
Bashir returned to Budapest in 1991 where he joined the Franz Liszt Academy. Bashir has performed as a solo artist and in duets with his father until Munir Bashir died in 1997 on the eve of a tour of North America. His music mixes traditional Arabic music with a jazz-like improvisation that has earned him comparisons to John MacLaughlin and Al Di Meola.
Twenty-six-year-old American pianist Jonathan Biss has already proved himself an accomplished and exceptional musician with a flourishing international reputation through his orchestral and recital performances in North America and Europe. Noted for his intriguing programs, artistic maturity and versatility, Mr. Biss performs a diverse repertoire ranging from Mozart and Beethoven, through the Romantics to Janácek and Schoenberg as well as works by contemporary composers. Biss is passionate blackjack players and he often has online blackjack nights. You can join him in online casinos without risking any money, with the free casino chips you can get from freecasinogamechips.com.
In April, EMI Classics released Mr. Biss's highly anticipated recording debut: a CD comprising Schumann's Davidsbündlertänze, Op. 6 and two works by Ludwig van Beethoven-Fantasy in G minor, Op. 77 and Piano Sonata No. 23 in F minor, Op. 57 (Appassionata). The Los Angeles Times called Mr. Biss "a serious, accomplished artist who puts the composer before the player," the San Francisco Chronicle said his debut CD is "brilliant," and the Cleveland Plain Dealer remarked that this "recording is a clear signal that a master is emerging."
Mr. Biss has performed with most major U.S. orchestras, including the Atlanta Symphony, Baltimore Symphony, Boston Symphony, Cincinnati Symphony, Chicago Symphony, Dallas Symphony, Indianapolis Symphony, Los Angeles Philharmonic, Milwaukee Symphony, Metropolitan Opera Orchestra, Minnesota Orchestra, National Symphony, New York Philharmonic, Philadelphia Orchestra, Pittsburgh Symphony, Saint Louis Symphony, San Francisco Symphony, and Seattle Symphony.
An enthusiastic chamber musician, Mr. Biss participated in the Jerusalem Chamber Music Festival this past summer and has added numerous chamber music performances to his 2004-05 schedule: several with the Mendelssohn String Quartet and duo recitals with violinist Miriam Fried in Washington, St. Paul, and in New York at the Metropolitan Museum of Art. Mr. Biss will give recitals in Dusseldorf, Frankfurt, Hannover, and Perugia in Europe and throughout the U.S. in cities that include Detroit, Philadelphia, Seattle, and New York at Zankel Hall in March.
Mr. Biss made his New York recital debut at the 92nd Street Y's Tisch Center for the Arts in 2000. Of his New York Philharmonic debut under Kurt Masur that same season, The New York Times wrote that Mr. Biss played with "assurance, intelligence and vitality." Last season he made a return engagement with the New York Philharmonic in the orchestra's "Beethoven Experience" series conducted by current music director, Lorin Maazel. Mr. Biss has given recitals at New York's Metropolitan Museum of Art, the Kennedy Center in Washington, D.C., and in many other cities throughout the U.S. and Canada including Boston, Baltimore, Chicago, Cincinnati, Philadelphia, San Diego and Vancouver as well as at Caramoor and Ravinia. Abroad he has performed with the BBC Symphony, the BBC Philharmonic, the Munich Philharmonic, the Rotterdam Philharmonic, the Staatskapelle Berlin, at the Verbier and Bad Kissingen Festivals, and has given recitals in London, Munich, Toulouse, Zurich, the Spoleto Festival in Italy, and at Klavier-Festival Ruhr in Germany. Among the many conductors with whom he has worked are Marin Alsop, Daniel Barenboim, Herbert Blomstedt, James Conlon, Charles Dutoit, James Levine, and Neville Marriner.
Jonathan Biss represents the third generation in a family of professional musicians that includes his grandmother Raya Garbousova, one of the first well-known female cellists (for whom Samuel Barber composed his Cello Concerto), as well as his parents, violinist Miriam Fried and violist/violinist Paul Biss. Growing up surrounded by music, Mr. Biss began his piano studies at age six and his first musical collaborations were with his mother and father. Mr. Biss studied at Indiana University with Evelyne Brancart and at The Curtis Institute of Music in Philadelphia with Leon Fleisher.
Mr. Biss was an artist-in-residence on NPR's "Performance Today" and has been recognized with numerous awards, including the 2002 Gilmore Young Artist Award, Wolf Trap's Shouse Debut Artist Award, Lincoln Center's Martin E. Segal Award, an Avery Fisher Career Grant, the Andrew Wolf Memorial Chamber Music Award, and the 2003 Borletti-Buitoni Trust Award. He was the first and only American chosen to participate in the BBC's New Generation Artist program.
Kamel Boutros
Singer, pianist, and composer Kamel Boutros was born and raised in Cairo, Egypt and studied at the Cairo Conservatory, where he majored in composition and piano. In 1996, he received his Masters of Music in Opera degree from the Curtis Institute of Music. Mr. Boutros made his operatic debut in 1994 singing the role of Masetto in Don Giovanni with The Opera Company of Philadelphia, a role he repeated in Ghent, Belgium with the European Opera Center. The next year, he sang Figaro in the San Francisco Opera Center's Merola Program and for the Western Opera Theater tour in their production of Le nozze di Figaro. In 1997, Mr. Boutros made his Carnegie Hall debut with The Opera Orchestra of New York and Eve Queler, conductor, as Orbazzano in Rossini's opera Tancredi. In 1999, Mr. Boutros gave recitals as part of the Santa Fe Chamber Music Festival Tour, which concluded at the Metropolitan Museum in New York, where he accompanied himself in two Egyptian Art Songs he had written for the Festival. That same year, he performed Mahler's Songs of the Wayfarer with the Kentucky Symphony Orchestra, and in April 2001 he returned to Carnegie Hall for the role of Nevers in Les Huguenots with The Opera Orchestra of New York.

At the Metropolitan Opera, Mr. Boutros' roles since 2002 have included Asmodus in Doktor Faust, Moralés in Carmen, Paris in Roméo et Juliette, Pit Baritone in Moses und Aron, Prince Yamaduri in Madama Butterfly and Der Acht Diener in Capriccio. Next season, he will sing in Meistersinger, Die Frau ohne Schatten, La Bohème and Il Barbiere di Siviglia. Mr. Boutros has won several awards, including the Clarisse B. Kampel Foundation in 2000, the 1998 Oratorio Society of New York Vocal Competition, the 1997 Opera Index Competition and the Sullivan Foundation Career Award in 1996. He recently completed his first feature film, the "Death of Klinghoffer" with the London Symphony Orchestra, which was released in theaters in the fall of 2003.
Carter Brey
Carter Brey was appointed Principal Cellist of the New York Philharmonic in 1996, and made his subscription debut as soloist with the Orchestra in May 1997, performing Tchaikovsky's Rococo Variations led by then-Music Director Kurt Masur. He has performed as soloist in subsequent seasons in the Elgar Cello Concerto with André Previn conducting; in William Schuman's A Song of Orpheus with Christian Thielemann; in Richard Strauss's Don Quixote with Music Director Lorin Maazel and with former Music Director Zubin Mehta; and in the Brahms Double Concerto with Concertmaster Glenn Dicterow and conductor Christoph Eschenbach. The Brahms was repeated at the Tanglewood Music Center in the summer of 2002 as part of Kurt Masur's final concerts as Philharmonic Music Director.
Carter Brey rose to international attention in 1981 as a prizewinner in the Rostropovich International Cello Competition. Subsequent appearances with Mstislav Rostropovich and the National Symphony Orchestra were unanimously praised. The winner of the Gregor Piatigorsky Memorial Prize, Avery Fisher Career Grant, the Young Concert Artists' Michaels Award, and other honors, he also was the first musician to win the Arts Council of America's Performing Arts Prize, and has performed as soloist with many of America's major symphony orchestras.
His chamber music career is equally distinguished. He has made regular appearances with the Tokyo and Emerson string quartets as well as The Chamber Music Society of Lincoln Center, the Spoleto Festival in the U.S. and Italy, and the Santa Fe Chamber Music and La Jolla Chamber Music festivals, among others. He presents an ongoing series of duo recitals with pianist Christopher O'Riley; together they have recorded The Latin American Album, a disc of compositions from South America and Mexico (Helicon Records). His recording with Garrick Ohlsson of the complete works of Chopin for cello and piano was released by Arabesque in the fall of 2002 to great acclaim.
Mr. Brey was educated at the Peabody Institute, where he studied with Laurence Lesser and Stephen Kates, and at Yale University, where he studied with Aldo Parisot, and where he was a Wardwell Fellow and a Houpt Scholar. He lives in New York City with his wife, Ilaria Dagnini Brey, and their two children, Ottavia and Lucas. Among his outside interests are marathon running, ballroom dancing, and sailing (he holds two U.S. Sailing certifications and restored a classic sloop that he sails out of City Island).
Karin Coonrod
Karin Coonrod is an international theater artist, whose work has been hailed by The New York Times as "prodigiously inventive" and by The New York Observer for "clear-eyed imaginative intelligence." She is perhaps best known for her epic Henry VI, created at the Joseph Papp Public Theater where she was Artist-in-Residence.

Founding Director of the critically acclaimed Arden Party Theatre Company in downtown New York City, Ms. Coonrod produced, directed and designed texts by many classical greats including Shakespeare, Beckett, Wilde, Brecht, and Sophocles, during which time she won Encore's outstanding director award for her direction of Roger Vitrac's Victor or Children Take Over. Other noteworthy off-Broadway productions include her adaptation of three stories by Flannery O'Connor, Everything That Rises Must Converge, and Shakespeare's King John and Julius Caesar.

Also Founding Director of Compagnia de' Colombari, an international theater company based in Orvieto, Italy, Ms. Coonrod and the company established a new tradition of theater with the medieval mystery plays re-imagined for the city's annual spring Corpus Christi celebration. A lecturer in directing at the Yale School of Drama since 2002, Ms. Coonrod has been guest artist/teacher at Harvard, Columbia, NYU, University of Iowa, Fordham, and California Institute of the Arts.

Gerard Edery Ensemble


The Gerard Edery Ensemble explores several of the world's musical traditions. Commanding songs in some dozen languages, these gifted musicians bring an ancient repertoire to the contemporary stage, while fueling the evolution of Sephardic music with new arrangements and original compositions. From joyous hymns of celebration to poignant ballads of loss, from flamenco-inspired pieces to holy works of praise, the Ensemble's instrumental virtuosity and passionate performance make for an unforgettable musical experience.


Gerard Edery, composer, singer and guitarist, was born in Casablanca, Morocco, and raised in Paris and New York City. Speaking several languages throughout his childhood, Mr. Edery absorbed a variety of musical traditions spanning three continents. Influenced by classical, flamenco, jazz and folk techniques, Mr. Edery's virtuoso guitar-playing is a fusion of styles. An authority on a variety of musical styles, he has a special passion for the rich heritage of French, Spanish and Judeo-Spanish melody. Considered one of the leading interpreters of Sephardic Song, Mr. Edery has been honored with the Sephardic Musical Heritage Award. He also received a "Meet the Composer" grant for his original songs, and his musical, Song of the Turtledove, co-written with Noa Ain, was presented by the Premieres festival, at Lincoln Center.
Leon Fleisher
Renowned pianist, conductor and teacher Leon Fleisher, now in his sixth decade before the public, started piano lessons in his native San Francisco at age four, and gave his first recital at eight. A year later he began studying with the great German pianist Arthur Schnabel, and by 16, in 1944, made his debut with the New York Philharmonic. He was the first American to win the prestigious Queen Elisabeth of Belgium competition, in 1952. Fleisher's career was on a smooth upward trajectory for the next dozen years: he concertized all over the world with every major orchestra and conductor, gave recitals everywhere, and made numerous touchstone recordings with George Szell and the Cleveland Orchestra of the piano concertos of Beethoven, Brahms and Rachmaninov (all available on CD).

Fleisher was suddenly struck silent when two fingers of his right hand became immobile in 1965. Undergoing many treatments that gave only temporary relief, he was forced to "retire" when only 37 years old. This was the defining moment in his career until recently, when he began treatments that finally helped relieve the neurological affliction known as focal dystonia that had been plaguing him for more than half his life. For several years, Fleisher has been playing - infrequently - with both hands again, and has just made his first two-hand recording in 40 years, a sort of musical biography called Two Hands. Its repertoire ranges from J.S. Bach and Domenico Scarlatti via Chopin and Debussy to Franz Schubert's monumental final Piano Sonata in B flat Major (Vanguard Classics).

In the nearly 40 years since Leon Fleisher's keyboard career was so suddenly curtailed, he has followed two parallel careers - as conductor and teacher - while learning to play the extensive but limiting repertoire of compositions for piano left-hand. He began conducting in 1967, but never gave up the idea of playing with both hands again.

Mr. Fleisher's reputation as a conductor was quickly established when he founded the Theatre Chamber Players at the Kennedy Center in 1967 and became Music Director of the Annapolis Symphony in 1970. He made his New York conducting debut at the 1970 Mostly Mozart Festival and in 1973 became Associate Conductor of the Baltimore Symphony. He has appeared as guest conductor with the Cleveland Orchestra and the Symphony Orchestras of Boston, Chicago, San Francisco, Montreal and Detroit, among others. He also had a regular association with the New Japan Philharmonic as its Principal Guest Conductor, leading the orchestra in a series of concerts each season, as well as with the Chamber Music Orchestra of Europe and the Gustav Mahler Chamber Orchestra.

Teaching has been a crucially important element in Leon Fleisher's life. As a revered pedagogue, he has held the Andrew W. Mellon Chair at the Peabody Conservatory of Music since 1959, and also serves on the faculties of the Curtis Institute of Music in Philadelphia and the Royal Conservatory of Music in Toronto. From 1986-97 he was Artistic Director of the Tanglewood Music Center. His teaching activities at the Aspen, Lucerne, Ravinia and Verbier festivals, among others, have brought him in contact with students from all over the world. He has also given master classes at the Salzburg Mozarteum, the Paris Conservatory, the Ravel Academy at St. Jean de Luz, the Reina Sofia School in Madrid, the Mishkenot in Jerusalem and the Metropolitan Museum of Art in New York.

"Suddenly I realized that the most important thing in my life wasn't playing with my two hands: it was music," says the fifth-generation Beethoven pupil. His teacher, Schnabel, who left Germany for the United States in 1939, had been a pupil of Polish keyboard giant and pedagogue Theodor Leschetizky, who was a pupil of Carl Czerny, who studied with Ludwig van Beethoven. "Passion, not technique, is what I learned from Schnabel," Fleisher has said.

"In order to be able to make it across these last thirty or forty years, I've had to somehow de-emphasize the number of hands or the number of fingers and kind of go back to the concept of music as music - whether it be a single line for a wind instrument or a single line for one hand, or one hand sounding like two hands. In other words, the instrumentation becomes unimportant and it's the substance and the content that takes over. It seems less momentous in a sense - but more, an extension and a continuation. In a way, that denies, whatever glory and exaltation there is in this whole event - but perhaps that best describes what this is, 'Two Hands'."
Gabriela Lena Frank
Composer and pianist Gabriela Lena Frank has been hailed as representing "the next generation of American composers." She regularly draws on and incorporates Latino/Latin American mythology, archeology, art, poetry, and folk music into western classical forms, reflecting her Peruvian-Jewish-Chinese heritage. Her compositions exhibit "honesty and genius" (Springfield Union-News), "unself-conscious craft and mastery" (Washington Post), and "brilliantly effective writing" (New York Times); and have furthermore been described as "striking, original" (Seattle Post-Intelligencer), and "luminous… bursting with fresh originality" (Los Angeles Times). Her work Los Sombras de los Apus for cello quartet was recently elected to Chamber Music America's list of "Top One Hundred and One Great American Ensemble Works".
Upcoming premieres include a viola sonata for the 2006 Aspen Summer Music Festival; Canto de Harawi for the DaCamera Society of Houston; and Requiem for a Magic America based on Pre-Inca civilizations for the University of Kansas Wind Band Ensemble and Dance Department. Forthcoming commissions include new works for Chanticleer, the Brentano String Quartet, guitarist Sharon Isbin, The Silk Road Project, Orchestra of St. Luke's, the ProMusica Orchestra, and the Modesto Symphony, among others.
Gabriela is currently developing opera libretti on Latin American folkloric and/or contemporary topics, including La Historia Oficial (The Official Story) regarding the disappearance of thousands of civilians during Argentina's "dirty war" of the 1980s and the ongoing protests by the famed Mothers of Plaza de Mayo (Madres de Plaza de Mayo).
Recent premieres include Manchay Tiempo (2005) by the Seattle Symphony; Inkarrí (2005) by the Kronos Quartet; Ccollanan María (2005) by the Volti Vocal Ensemble; Ghosts in the Dream Machine for piano quintet by the Chiara Quartet with pianist Simone Dinnerstein; Illapa: Tone Poem for Flute and Orchestra (2004) by Leone Buyse and the Shepherd Symphony Orchestra; Songs of Cifar and the Sweet Sea (2004) (based on the poems of Nicaraguan sailor-poet Pablo Antonio Cuadra) by baritone Robert Gardner and pianist Molly Morkowski at Carnegie Hall; and Three Latin American Dances (2004) by the Utah Symphony Orchestra under the baton of Keith Lockhart. The Utah Symphony subsequently recorded Three Latin American Dances (to be released in 2006). Three Latin American Dances has since entered the repertory of several major orchestras including the San Francisco Symphony. In Spring 2006 the Chiara Quartet will release a new recording of Leyendas: An Andean Walkabout.
Active as a pianist, Gabriela recorded the complete solo piano and violin/piano compositions of Pulitzer Prize winning composer Leslie Bassett on the Equilibrium label for which the American Record Guide describes her performance as one of "care and enthusiasm." She currently collaborates with renowned Peruvian ethnomusicologist Raul Romero in recording the piano music of indigenous composers of coastal and Andean Peru. Next season she will premiere several works written specifically for her by Evan Chambers, Richard Lavenda, and Andrew Mead. Gabriela has also participated in the transcription and publication of a volume of piano works by the Venezuelan composer, Ramon Delgado Palacios through the Fundación Vicente Emilio Sojo in Caracas, Venezuela.
A great supporter of community outreach Gabriela has taken part in residency projects with the San Francisco Symphony, the Seattle Symphony; the Spencer Museum of Art with the University of Kansas Music Department; the American Composers Forum; and Michigan's Harrison Correctional Facility, and various others. Gabriela also frequently serves as composer-in-residence with both performing and academic institutions. In this capacity, she has recently been a guest at the University of Missouri-St. Louis, the Peabody Conservatory, Rice University, the University of Southern California, the University of California at Los Angeles, the University of Kansas, and Cornell University. She is a frequent guest at schools and festivals not only in North America but throughout Latin America as well.
In July of 2005, Gabriela served on a panel session and performed original works at the Latina Letters conference in San Antonio, TX. This annual conference focuses primarily on the work of living Latina poets and writers, and Gabriela presented the view of a Latina composer working with Latina texts in song. As a result of this venture, Gabriela will embark on collaborations with award-winning Chicano poets Lorna Dee Cervantes, Trinidad Sánchez, Jr., and Pat Mora, and has been engaged to return and collaborate further with the conference's sponsoring organization, the Guadalupe Center for the Arts.
Born with a moderate-to-profound neurosensory hearing loss, Gabriela also served as the keynote speaker in the national convention for ALDA (Association of Late-Deafened Adults) in September 2005 in Salt Lake, UT.
Gabriela has been recognized by numerous organizations including ASCAP, the International Alliance of Women in Music, the National Endowment for the Arts, National Public Radio, the American Academy of Arts and Letters, the American Music Center, Arts International, and the inaugural Raymond and Beverly Sackler Music Composition Prize. A Global Connections award through Meet the Composer recently sent her to Brazil in May of 2005 where her flute concerto was performed by the Orquestra Sinfonica da Bahía and principal flutist Lucas Robatto in Salvador-Bahía. She was named the 2005 Music Teachers National Association (MTNA) Commissioned Composer by the California Association of Professional Music Teachers (CAPMT) for which she is composing a multi-movement solo piano work, The Book of Quipus.
Born in Berkeley, CA in 1972, Gabriela holds degrees from Rice University and a doctorate (2001) from the University of Michigan in Ann Arbor. Her composition teachers have included William Albright, Leslie Bassett, William Bolcom, Michael Daugherty and Samuel Jones. Her piano studies have been with Jeanne Kierman Fischer and Logan Skelton. She currently makes her home in the San Francisco Bay Area and travels often in Latin America. Her music is published exclusively by G. Schirmer.
Joyce Griffen
As a member of Actors Equity, AFTRA, and SAG, Joyce Griffen is a working actress, singer, and dancer. Her favorite theater performances were with the New Federal Theater. Ms. Griffen currently works as a Teaching Artist (in dance and theater) for the Lincoln Center Institute and the Henry Street Settlement, in addition to being a Columbia University School of the Arts, Writer's Guild of America East Foundation, Harlem Arts Alliance Screenwriting Workshop Fellow.
Her first screenplay is entitled Po' Robin and Uncle Bay. She began directing at the request of famed playwright Ed Bullins, mounting one of his plays. Other directing credits include Rebecca Gillman's Spinning into Butter at the Schoolhouse Theater, Croton Falls, NY; Zora Speaks, by D. Kelsey at the Theater at Riverside Church; and her own, Formerly Known as Sarah, which was given a staged reading at the Museum of the City of New York, in the spring of 2008, and a full production at the Paul Robeson Theater, summer 2008, with Ms. Griffen in the lead role.

Guarneri Quartet

Arnold Steinhardt, Violin
John Dalley, Violin
Michael Tree, Viola
Peter Wiley, Cello
The renowned Guarneri String Quartet "is among the most revered and enduring ensembles of its kind in the world" (National Public Radio) and has circled the globe countless times since it was formed in 1964, playing in the most prestigious halls in North and South America, Mexico, Europe, Asia and Australia. Their 40th Anniversary was celebrated during the 2003-04 and 2004-05 seasons, in which they continued touring extensively throughout the United States, Europe, and South America.
In the 2005-06 season, the Guarneri Quartet continue their Metropolitan Museum tradition with a series of six performances for which they have invited special guests to perform with them a work by Mozart on each program to celebrate the 250th Birth Anniversary of this illustrious composer. They also keep to a busy schedule of performances throughout the United States as well as their annual tour to Europe.
In 2003-04, celebrations included performing a Beethoven cycle during their annual Metropolitan Museum of Art six-concert series, instituted in 1965. In 2004-05, the series included invited special guests, each of whom performed with them in a work by Antonin Dvorak. Founding cellist David Soyer joined his former colleagues to play Schubert's String Quintet in C Major, D. 956 on several occasions as part of these special seasons. In January 2004, the Guarneri received the Richard J. Bogomolny National Service Award from Chamber Music America. This is CMA's highest honor, given annually to an individual or ensemble for a lifetime of service and achievement in the field.
In April 2005, one of the culminating events of the Guarneri's Anniversary was a performance in Lincoln Center's Alice Tully Hall, presented by the Chamber Music Society of Lincoln Center. In addition to this public performance, there were other events including a round-table discussion and quartet master-class with several young ensembles from leading music institutes. And finally, in May of 2005, Guarneri received the Ford Honors Award from the University Musical Society of the University of Michigan where they have performed thirty times over the past forty years.
In addition to mastering the finest works in the existing quartet repertoire, the Guarneri String Quartet is committed to performing and popularizing works by today's foremost composers. In the 2003-04 season, they gave the first performance of String Quartet No. 5 (In Search of La Vita Nuova) written for them by the award-winning American composer, Richard Danielpour. Mr. Danielpour had previously written a Concerto for String Quartet and Orchesta, commissioned by the National Symphony Orchestra and written expressly for the Guarneri String Quartet. It was premiered with the NSO in the Kennedy Center under the direction of Leonard Slatkin in January, 2000 followed by its New York premiere at Carnegie Hall later that same month. In the 2001-02 season, the Guarneri gave the first performances of String Quartet No. 5, written for them by Lukas Foss and this work remains in their active repertoire.
The Quartet has been featured on many television and radio specials, documentaries and educational presentations both in North America and abroad. They have been interviewed by Charles Kuralt on CBS' nationwide television program, Sunday Morning. A full-length film entitled High Fidelity - The Guarneri String Quartet was released nationally, to great critical and public acclaim, in the fall of 1989 (the film was directed and produced by Allan Miller who was also the director/producer of the Academy Award-winning documentary, From Mozart to Mao, which dealt with Isaac Stern's visit to China). The quartet is also the subject of various books including Quartet by Helen Drees Ruttencutter (Lippincott & Crowell, 1980), The Art of Quartet Playing: the Guarneri in Conversation with David Blum (Alfred A. Knopf, 1986) and Arnold Steinhardt's Indivisible by Four: A String Quartet in Pursuit of Harmony (Farrar, Straus and Giroux, 1998).
In 1982, Mayor Koch presented the Quartet with the first New York Seal of Recognition. The Quartet was awarded Honorary Doctorate degrees by the University of South Florida (1976) and the State University of New York (1983). In 1992, the Guarneri String Quartet became the only quartet to receive the prestigious Award of Merit from the Association of Performing Arts Presenters in New York City. The Quartet continues their longstanding series and residency at the University of Maryland where they are on the faculty.
The Guarneri String Quartet has recorded for Surroundedby Entertainment, which released a CD in Spring 2001 of Quartets by Ravel, Debussy and Fauré. Several of its recordings on both RCA Red Seal and Philips have won international awards, including its recent recording of Juan Crisostomo de Arriaga's String Quartet Nos. 1-3 (Philips), which won the 1996 Deutsche Schallplattenkritik Award in Germany. Among its other award-winning recordings are collaborations with such artists as Artur Rubinstein, Pinchas Zukerman; and Boris Kroyt and Mischa Schneider of the Budapest Quartet. They have also recorded on the Arabesque label Mendelssohn's String Quartet No. 3 and its first ever recording of the great Mendelssohn Octet, Op. 20, in a collaboration with the Orion Quartet.


John Hadfield
Percussionist John Hadfield's dedication to blending genres has taken him from the jungles of Indonesia to concert halls and clubs across the world. This diversity has allowed him to perform with a broad variety of ensembles including Yo-Yo Ma's Silk Road ensemble, The Saturday Night Live Band on NBC television, Bang on a Can, The Michael Gordon Band, the rock bands Amandla and Dead Heart Bloom, Sierra Leone's Refugee All Stars, The Bassam Saba Ensemble, Ethos Percussion Group, and Gamelan virtuoso Dharma Swara. Mr. Hadfield has worked alongside such great jazz artists as Kenny Werner, Lenny Pickett, George Garzone, Bobby Watson, Dominique Eade, Ben Monder, Satoshi Takeshi, Brad Shepik, Mike Richmond, and Erik Friedlander. He resides in New York City and serves on the Jazz faculty at New York University.
Siamak Jahangiri

Siamak Jahangiri is a rising star in the world of Persian classical music. Born in northern Iran in 1971, he began playing the ney at the age of twelve. He has studied with Iran's most eminent ney players, primarily Mohammad Ali Kiani Nejad. He received his degree in music from Tehran University of the Arts and has written a book on the ney, its playing techniques in the 20th century, and its masters. He has performed with Yo-Yo Ma's Silk Road Ensemble, appeared on the recording Silk Road Journeys: When Strangers Meet (on which fellow ensemble members Kalhor and Aghaei also appeared) and was featured in the companion exhibition of photographs The Silk Road Ensemble: Portraits and Places.
Colin Jacobsen
Violinist Colin Jacobsen, a 2003 Avery Fisher Career Grant recipient, first played to critical acclaim at the age of fourteen, collaborating with Kurt Masur and the New York Philharmonic in a performance that was hailed by The New York Times: "Jacobsen was the impressively accomplished soloist in Bruch's Scottish Fantasy, sounding as if he were born to the instrument and its sweet, lyrical possibilities." He recently returned to perform with the New York Philharmonic in Brahms' Double concerto with Yo-Yo Ma, with David Zinman conducting.

Mr. Jacobsen enjoys a diverse musical life performing as a guest soloist with orchestras worldwide and chamber musician with a number of groups including the Silk Road Ensemble with Yo-Yo Ma, the Metropolitan Museum Artists in Concert, the Chamber Music Society of Lincoln Center, Brooklyn Rider, and the Knights. As a composer/arranger, he has written and performed in Spiral Songs, a collaboration with C Eule Dance, as well as arranged several pieces for the Silk Road Ensemble.
Mr. Jacobsen's string quartet "Brooklesca" (composed for Brooklyn Rider) was recently heard nationwide on American Public Media's Performance Today, and he has written two new pieces for Brooklyn Rider's upcoming album, in collaboration with Persian kemanche player Kayhan Kalhor, which will be released this fall on Harmonia Mundi's World Village label.
Eric Jacobsen
Cellist Eric Jacobsen is a founding member, together with his brother Colin, of the string quartet known as Brooklyn Rider and of The Knights, which performs as a chamber orchestra and in smaller ensembles. He is also the curator and artistic director of the 92nd Street Y's Makor Center for Classical Café.
In the fall of 2003, Mr. Jacobsen appeared with Renée Fleming at the opening of Zankel Hall at Carnegie Hall and on The Late Show with David Letterman, and as a member of the Silk Road Project, he has traveled to Azerbaijan, Japan, Malaysia, and Switzerland. Mr. Jacobsen has appeared as soloist with the Greenwich Village Orchestra, Riverside Orchestra, Chamber Soloists of Austin, New Hampshire Music Festival Orchestra, Lake George Chamber Orchestra, and Woodstock Festival Orchestra. As a conductor, he led an all-Beethoven program at the Tilles Center in Long Island and the Washington Irving School in Manhattan.
Mr. Jacobsen received his Bachelor of Music at The Juilliard School under the guidance of Harvey Shapiro and David Soyer and can be heard on recordings with such distinguished artists as Yo-Yo Ma, Bono, and Mark O'Connor.

The Knights


A fellowship of young musicians of diverse and accomplished backgrounds who come together for the shared joy of musical exploration, The Knights have brought audiences varied and engaging programs consisting of oddities and favorites from all eras, world premières, collaborations with jazz artists and singer-songwriters, and arrangements of folk music from different world traditions in their quest to bring new light to old works and new works to light. The group is a flexible chamber orchestra, appearing often as a conductor-less string orchestra, but expands accordion-like to include some of New York's most sought-after winds and percussion.
Members of the group are graduates of Juilliard, Curtis, Manhattan, Mannes, and Eastman, and include members of Yo-Yo Ma's Silk Road Ensemble. They have performed as soloists with the New York Philharmonic, Chicago Symphony Orchestra, and Israel Philharmonic, to name a few, and have appeared at the world's most prestigious music festivals, including Marlboro, Tanglewood, Verbier, Lucerne, Salzburg, and Moritzburg.
In September of 2006, The Knights gave the world première of Mark O'Connor's "Harmony" for Violin and Strings, with the composer performing the solo, on Musicians For Harmony's 5th anniversary "Concert for Peace" at Merkin Hall. The Knights were also the resident chamber orchestra for the 2007 MATA Festival for young composers, held at the Brooklyn Lyceum, where they premiered numerous new works by notable emerging composers.
Anne-Marie McDermott
A luminous, boldly emotive pianist who also conveys great sensitivity and spirituality through her playing. Anne-Marie McDermott is widely celebrated for her expressive performances on the worlds most illustrious stages. A highly versatile musician, Ms. McDermott is at home with a wide range of repertory, be it Bach or Prokofiev, Mozart or Rachmaninov. Whether she is playing as a solo recitalist, soloist with orchestra or as part of a chamber music ensemble, Ms. McDermott conveys the message of the composer in deeply felt, spontaneous playing.
Ms. McDermott's 1997 debut with the New York Philharmonic under Christian Thielemann (Mozart's Piano Concerto No. 9, K. 271) was a great success and is symbolic as a springboard. Since that concert, McDermott has shown the world that she is a musician of the first order. With each successive season, she brings audiences to their feet in more of an extraordinary fashion. Her mastery of and recent focus on the keyboard music of Prokofiev and Bach have earned her tremendous acclaim.
Anne-Marie McDermott's 2001-2002 season highlights include solo recitals and orchestral appearances throughout the United States. She performs Mendelssohn's Piano Concerto No. 1 with the North Carolina Symphony (Gerhardt Zimmermann conducting), Rachmaninov's Piano Concerto No. 1 with the Indianapolis Symphony (Pavel Kogan conducting) and Copland's Piano Concerto with the Florida Philharmonic (Michael Stern conducting). She opens the Chattanooga Symphony's season in performances of Beethoven's Triple Concerto with violinist Ida Kavafian and cellist Peter Wiley.
As an Artist Member of the Chamber Music Society of Lincoln Center, Ms. McDermott is highly active with chamber music. Highlights of this 2001-2002 season include the world premiere (in New York City) of Aaron Jay Kernis Trio in Red with David Shifrin and Fred Sherry, a tour with Ida Kavafian and the Miami String Quartet in performances of Chausson's Concerto for Violin, Piano, and String Quartet, and Schumann's Piano Quintet with the Guarneri String Quartet at the Metropolitan Museum of Arts Concerts & Lectures series.
Ms. McDermott's spring 2001 performances included the Nashville, Memphis, Chattanooga, and Virginia Symphonies, among others. Each concert was met with thrilled audiences and outstanding critical acclaim. Also during the 2000-2001 season, Ms. McDermott appeared internationally in duo performance with Nadja Salerno-Sonnenberg and was honored by Yamaha in a solo recital at Lincoln Centers Alice Tully Hall.
Sought after by the major festivals such as Mainly Mozart, Mostly Mozart and Ravinia, Anne-Marie McDermott regularly performs recitals and chamber concerts throughout the United States and abroad. She has appeared at many festivals including Santa Fe, Spoleto, Chamber Music Northwest, Bravo! Colorado, Newport, the Dubrovnik Festival in the former Yugoslavia, and the Festival Casals in Puerto Rico.
Ms. McDermott began playing the piano at age 5, and at the age of 12 performed the Mendelssohn Concerto in G minor with the National Orchestral Association at Carnegie Hall. She studied at the Manhattan School of Music as a scholarship student with Dalmo Carra, Constance Keene and John Browning; and participated in master classes with such noted artists as Leon Fleisher, Menahem Pressler, Misha Dichter, Abbey Simon, Rosalyn Tureck, Michael Tilson Thomas and Mstislav Rostropovich.
Josh Myers
No newcomer to the scene, acoustic and electric bassist Josh Myers has been lending his unique and skilled presence to dozens of bands in New York since 2002. He now resides in Windsor Terrace, Brooklyn, where he leads the Josh Myers Quintet and Big Words at New York venues such as Louis 649, Barbes, the Tea Lounge, Bar 4, the Center for Improvisational Music, and others. He has performed with John Scoffield, Kenny Werner, Lenny Picket and Wayne Krantz, and he plays regularly with such notables as Gerald Cleaver and Ohad Talmor. Most recently, he was featured on cellist/beatmaker Cosmo D's latest recording with the band Sauce, and Josh Myers Quintet's debut, Walls Red.

Musique Sans Frontières
Patrick Derivaz, Bass
Colin Jacobson, Violin
Rubin Khodeli, Cello
Benny Koonyevsky, Percussion

"Musique Sans Frontières" ("Music Without Borders") is a multicultural ensemble of musicians who came together in response to the tragic events of September 11th to perform for Musicians For Harmony. Organized by Musicians For Harmony's Artistic Director Patrick Derivaz, these artists represent a blending of many different backgrounds and cultures who share a desire to foster global harmony through their music-making. Their first CD, Musique Sans Frontières – Volume 1, was released in 2006 to coincide with the fifth anniversary of Musicians For Harmony.
Violinist Colin Jacobsen, recipient of a 2003 Avery Fisher Career Grant, first played to critical acclaim at age fourteen as soloist with the New York Philharmonic under Kurt Masur and returned to the Philharmonic last season to perform Brahms' Double Concerto with cellist Yo-Yo Ma under David Zinman. His principle teachers have included Louise Behrend, Robert Mann, and Vera Beths. Mr. Jacobsen tours regularly with the Silk Road Ensemble and is a member of Chamber Music Society of Lincoln Center's program for young artists, CMS Two, and the Metropolitan Museum Artists in Concert.
Cellist Rubin Kodheli was born in Tirane, Albania, and started playing cello at age seven. In 1993, Mr. Kodheli moved to Belgium, studied at L'Academie d'Uccle, and then attended the Richard Strauss Konservatorium in Munich. In 2001, he graduated from The Juilliard School, where he studied with Fred Sherry, and went on to play with such avant-garde ensembles as Nurse Kaya and Zooid, a band of six musicians led by international musician/composer Henry Threadgill. He has also collaborated with Wyclef Jean and Jerry "Wonda" Duplessis, members of the Fugees.
Bass player Patrick Derivaz studied music at the Conservatoire d'Aix en Provence in France. He currently lives in New York, where he works as a musician, composer, producer and engineer and also teaches music and sound design at the Fashion Institute of Technology. Over the years he has been involved in all styles of music, including classical, world, rock, and soundtracks, with some of the best musicians in these domains. Mr. Derivaz has been with Musicians For Harmony since its inception and serves as Artistic Director. For each of MFH's benefit concerts, he has assembled a new group of musicians with different cultural backgrounds to form "Musique Sans Frontières."
Percussionist Benny Koonyevsky is a native of Haifa, Israel. At age twenty, he joined the Israel Philharmonic under Zubin Mehta and later made his solo début with them as a recipient of the Françoise Shapira Prize. Mr. Koonyevsky has been a member of the New York Percussion Quartet since 1990, and in 1995 he received his master's degree from the Juilliard School. He has toured with Omar Faruk Tekbilek, the Cuban band "Son De Madre" and Debbie Friedman and has recorded with Gloria Estefan, Vanessa Williams, Donald Fagen and Juliann Green, among others.
Mark O'Connor
Violinist/composer/fiddler Mark O'Connor is widely recognized as one of the most gifted contemporary composers in America and surely one of the brightest talents of his generation. The New York Times calls his "one of the most spectacular journeys in recent American music." The Baltimore Sun and the St. Louis Post Dispatch label him "genius." The Los Angeles Times describes him as an artist who is "one of the most talented and imaginative...working in music -- any music -- today." The Seattle Times says of his music: "brilliantly original." His compositions are "informed and engaging," according to the Washington Post.

A product of America's rich aural folk tradition, Mr. O'Connor's journey began at the feet of violin masters Texas fiddler Benny Thomasson and French jazz violinist Stephane Grappelli. Along the way, between these two marvelous musical extremes, Mark O'Connor absorbed knowledge and influence from a multitude of musical styles and genres. Now, at age 44, he has melded and shaped these influences into a new American classical music. The Los Angeles Times warmly noted he has "crossed over so many boundaries, that his style is purely personal."
His first recording for the Sony Classical record label, Appalachia Waltz, was a collaboration with Yo-Yo Ma and doublebassist Edgar Meyer. The works Mr. O'Connor composed for the disc, including its title track, gained worldwide recognition for him as a leading proponent of a new American musical idiom. The tremendously successful follow-up release, Appalachian Journey, received a Grammy Award in February 2001.
Viewing Mark O'Connor as a direct cultural descendant of America's 18th century musicians, the producers of the six-part PBS documentary on the American Revolution approached Mark O'Connor to contribute music to their longform work. An album of the music he created, Liberty!, was released on the Sony Classical label in 1997 and features Mr. O'Connor's arrangements of a variety of traditional American music and expansive original orchestral works. Both Yo-Yo Ma and Wynton Marsalis appear as guests on the album.
In 2000, composer John Williams also called on his expertise and knowledge of the period to contribute solo instrumentalist talents to the Oscar-nominated score of "The Patriot." Mr. O'Connor was invited to contribute to the soundtrack of the upcoming Ron Maxwell film, "Gods and Generals," released in 2003.
With more than 150 performances, his "Fiddle Concerto No. 1" has become the most-performed modern violin concerto. In August 2000, Mr. O'Connor's composition, "Double Concerto for Two Violins," received its premiere with Nadja Salerno-Sonnenberg and the Chicago Symphony, Christoph Eschenbach conducting.

In June 2001, Mr. O'Connor released Hot Swing!, a tribute to his great friend and mentor, the legendary French jazz master, Stephane Grappelli. Released on his own OMAC label, the CD was recorded live with Jon Burr on bass and Frank Vignola on guitar. The critical acclaim was unanimous and immediate. The Chicago Tribune called it "one of the finest discs of his career and one of the greatest jazz violin albums ever."

In 2002, Mr. O'Connor formed a new chamber ensemble, the Appalachia Waltz Trio, which features cellist Natalie Haas and violist Carol Cook. In recent years, as word of his considerable writing talents have spread, Mark O'Connor's compositions are being embraced by a variety of performers. Yo-Yo Ma has recorded the solo cello version of "Appalachia Waltz" and frequently performs it in recital. Dance troupes, including Twyla Tharp, the New York City Ballet and Hubbard Street Dance Chicago, are constantly discovering Mr. O'Connor's expressive American music.
The recipient of numerous commissioning grants, including "Meet the Composer," in 1998, he received a commission from the McKim Fund of Library of Congress for a new violin sonata which he premiered in that year at the Library and was broadcast on National Public Radio. His a cappella "Folk Mass" will receive its world premiere in February in New York City, performed by Gloriae Dei Cantores, the choral ensemble that commissioned the piece. In May 2002, he delivered the commencement address and was awarded an honorary Doctor of Public Service Degree from The Sage Colleges in Troy/Albany, N.Y. for his many contributions to music and the cause of music education.
Mark O'Connor has appeared at The White House, the Presidential Inauguration Celebration and the ceremonies of Atlanta's Centennial Olympic Games for which he composed "Olympic Reel." He is often featured on major network television shows, and past appearances include "CBS Sunday Morning," "Great Performances" on PBS, the "Kennedy Center Honors" and America's celebration of Israel's 50th birthday televised on CBS.
Mr. O'Connor regularly teaches master classes and has conducted symposia at many schools of music including The Juilliard School of Music, Tanglewood, Aspen, the Berklee College of Music, UCLA, the Eastman School of Music and the Blair School of Music at Vanderbilt University. Mark generously donates his time in support of a number of organizations that promote music education and outreach, including Opus 118, Midori and Friends, Sphinx, and the Music For Life Alliance. He serves on the advisory panel for the selection of the Kennedy Center Honors and is affiliated with Arts4All, a nationally recognized provider of cultural web content. He is founder of the internationally recognized Mark O'Connor Fiddle Camp and Strings Conference. At the Mark O'Connor Fiddle Camp near Nashville, Tennessee and the Mark O'Connor Strings Conference near San Diego, California, Mr. O'Connor assembles a world-class faculty to teach in a number of musical styles. These gatherings routinely draw participants from across the U.S. and Canada, as well as from Europe, South America and Asia.
Mr. O'Connor resides in New York City.
Orion Quartet

Daniel Phillips, Violin
Todd Phillips, Violin
Steven Tenenbom, Viola
Timothy Eddy, Cello
"The persuasive power of the performance came from the exquisiteness and eloquence the four players brought to their lines. But it also came from how all of them phrased together – and, it seemed, breathed together." - The New York Times
"The group's playing and interpretation was consistently beguiling and technically impeccable. The four extremely virtuosic and accomplished players of the Orion Quartet seem to have been born to be together." - The Los Angeles Times
The Orion String Quartet is one of the most sought after ensembles in the United States. They remain on the cutting edge of programming with numerous commissions from composers Chick Corea, Alexander Goehr, Leon Kirchner, Marc Neikrug, Peter Lieberson and Wynton Marsalis, and enjoy a creative partnership with the Bill T. Jones/Arnie Zane Dance Company. With over fifty performances this year, the members of the Orion String Quartet – violinists Daniel Phillips and Todd Phillips (brothers who share the first violin chair equally), violist Steven Tenenbom and cellist Timothy Eddy – have worked with such legendary figures as Pablo Casals, Rudolf Serkin, Isaac Stern, Pinchas Zukerman, Yo-Yo Ma, Peter Serkin, András Schiff, members of TASHI and the Beaux Arts Trio, as well as the Budapest, Végh, Galimir and Guarneri String Quartets. Their repertoire this season includes cycles of Beethoven and Mozart, in addition to mixed programs of Haydn, Mendelssohn, Schubert, Dvorák, Bartók, Zwilich and Schulhoff. The Orion serves as Quartet-in-Residence at the Chamber Music Society of Lincoln Center and New York's Mannes College of Music.
Last summer, the Orion String Quartet returned to the Santa Fe Chamber Music Festival after giving performances in Lofoten, Norway, Canada's National Arts Centre, at Chamber Music Northwest and the Bard College Conservatory of Music. In the 2005-2006 season, they have been re-invited to Indiana University to perform a series of six concerts presenting the complete cycle of Mozart's viola quintets with Atar Arad, along with an extensive residency schedule. Additional engagements include the Kennedy Center, Philadelphia, Houston, Montreal, Corpus Christi and Phoenix. In May 2006, the Quartet continues its long-standing relationship with Wynton Marsalis by giving the world premiere of his new work for string quartet at Jazz at Lincoln Center.
The Quartet has achieved a reputation for definitive interpretation of the Beethoven String Quartets. In May 2000, the ensemble performed the entire cycle in a series of free concerts at Alice Tully Hall, with additional outreach activities in four boroughs of New York City. Presented in conjunction with the Chamber Music Society of Lincoln Center, Beethoven 2000 supported six New York community arts organizations in honor of their contribution to children's education. The Quartet has subsequently performed the complete Beethoven cycle in Kansas City, Pittsburgh, Deerfield (MA), Indiana University in Bloomington and a multi-season cycle is currently underway in San Juan, PR. The critically lauded, five-concert performance cycle in Pittsburgh took place over a period of three days. According to the Pittsburgh Tribune-Review, "The ensemble's performances had the seemingly infinite attention to detail – from the voicing of a chord to the nuance of a phrase – that results from their long and loving exploration of Beethoven's quartets."
The members of the Quartet maintain a strong dedication to the next generation of musical artists and serve on the faculties of the Mannes College of Music, Curtis Institute of Music, Juilliard School and Queens College, where they teach private lessons, give chamber music classes and offer intensive coaching programs for young professional string quartets. They have also served as faculty members of the Isaac Stern Chamber Music Workshop at Carnegie Hall and the Summer Institute for Advanced Quartet Studies in Aspen. Since 1993, the Orion String Quartet has maintained a summer residency at the Santa Fe Chamber Music Festival that included a three-year project of commissioned quartets by Danish composer Per Norgard, John Harbison and Chick Corea. The Quartet also premiered Marc Neikrug's piano quintet as part of the Santa Fe Chamber Music Festival's spring 2004 tour, which was subsequently recorded with Corea's The Adventures of Hippocrates for Spring 2006 release on Koch Records.
Since its inception, the Orion String Quartet has been consistently praised for the fresh perspective and individuality it brings to performances, offering diverse programs that juxtapose classic works of the standard quartet literature with masterworks by living composers; the Quartet's recordings reflect this diversity. For Sony Classical, the Orion recorded Wynton Marsalis's first classical composition for strings, At the Octoroon Balls (String Quartet No. 1). Commissioned by the Chamber Music Society of Lincoln Center, the work was written for and premiered by the ensemble. Other critically acclaimed recordings include Dvorák's "American" String Quartet and Piano Quintet with Peter Serkin and Mendelssohn's Octet with the Guarneri String Quartet, both on Arabesque.
Heard on National Public Radio's Performance Today, the Orion String Quartet has also appeared on A&E's Breakfast with the Arts, PBS's Live from Lincoln Center, and three times on ABC-TV's Good Morning America. In October 2004, they participated in the first WNYC Radio collaboration with BBC World Service's popular syndicated program, Music Party. This special performance heard in New York and over 40 countries worldwide features works by Haydn, Beethoven, Ravel, Bartók, Chick Corea and Wynton Marsalis. Additionally, the Quartet was photographed with Drew Barrymore by Annie Leibovitz for the April 2005 issue of Vogue.
The Orion String Quartet gained immediate attention in the classical music world when its founding members, each with distinguished solo and chamber music careers, officially formed the ensemble in 1987. The Quartet chose its name from the Orion constellation as a metaphor for the unique personality each musician brings to the group in its collective pursuit of the highest musical ideals.


Avram Pengas
Avram Pengas (bouzouki, guitar, oud, vocals) was born in Greece. His versatility and quicksilver fingers led him from playing lead guitar in the Israeli Air Force Band to performing at New York's celebrated venues, including Avery Fisher Hall, Alice Tully Hall and Town Hall. A skilled musical arranger, guitarist and self-taught virtuoso on the bouzouki, a stringed Greek instrument, Mr. Pengas creates music that is rooted in the Mediterranean and the Middle East and draws upon Eastern and Western musical elements. In the early 1970s, he appeared at El Avram and the Cafe Feenjon nightspots in New York City, and in 1979, he opened his own nightclub, "Noga," in the heart of New York's Greenwich Village. It was there that Mr. Pengas and a close circle of like-minded performers showcased their wide-ranging talents as part of the Noga Group. Their first album, "NOGA," captured the group's spirit and sound.

Since then, Mr. Pengas has appeared in concerts and music festivals throughout the United States, including the Bethlehem Musikfest, Yidstock and the Jewish Arts Festival of Commack, as well as Israel's annual Klezmorim Festival in Zefat. He has also performed in the off-Broadway production of Hot Klezmer and can still frequently be heard in the clubs of downtown Manhattan.

Anna Polonsky
Pianist Anna Polonsky is an accomplished soloist who has appeared with the Moscow Virtuosi under Vladimir Spivakov, the Buffalo Philharmonic under JoAnn Falleta, the St. Luke's Chamber Ensemble, the Columbus Symphony Orchestra, the Chamber Orchestra of Philadelphia and many others. As a chamber musician, Ms. Polonsky has collaborated with the Guarneri, Orion and Audubon Quartets and with such musicians as Mitsuko Uchida, David Shifrin, Richard Goode, Ida and Ani Kavafian, Cho-Liang Lin, Anton Kuerti, and Fred Sherry. She is regularly invited to perform chamber music at festivals such as Marlboro, Chamber Music Northwest, Santa Fe, Bridgehampton, Bard and Caramoor, as well as at Bargemusic in New York City. Ms. Polonsky has given concerts in the Amsterdam Concertgebouw, Alice Tully Hall, Weill Hall and the 92nd Street Y in New York and has toured extensively throughout the United States, Europe and Asia. A frequent guest at the Chamber Music Society of Lincoln Center, she was an artist member of CMS Two from 2002 to 2004. This season she takes part in the European Broadcasting Union's project to record and broadcast all of Mozart's keyboard sonatas in 2006.

Anna Polonsky made her debut at age seven at the Special Central Music School in Moscow, Russia. She immigrated to the United States in 1990 and attended high school at the Interlochen Arts Academy in Michigan. She received her Bachelor of Music degree from The Curtis Institute of Music, where she worked with Peter Serkin, and continued her studies with Jerome Lowenthal, earning her Master's Degree from the Juilliard School. She was a recipient of a Borletti-Buitoni Trust Fellowship in 2003 and currently resides in Philadelphia. Ms. Polonsky is a Steinway artist.

Michael Potts
Michael Potts is an active performer in theater, on television, and in film. He recently appeared in Grey Gardens, which opened on Broadway with critical acclaim, and has also appeared as Lennon on Broadway.
Other theater credits include: Oedipus and Highway Ulysses, The Persians, Twelfth Night, Romeo and Juliet, The Hostage, Cup of Coffee, Love's Labours Lost, Arms and the Man, Mud River Stone and the Rivals, Overtime, Rent, The American Play (Obie Award), Randy Newman's FAUST, and St. Joan of the Stockyards. Mr. Potts' television credits include: the recurring role of Brother Mouzone on HBO's The Wire, Queens Supreme, Oz, Law and Order, NYPD Blue, Ken Burn's Thomas Jefferson, and The West. His film credits include: Conspiracy Theory, The Peacemaker, Diggers, Stonewall, Hackers, and George: A True Story. He also starred with Rosemary Harris in the BBC radio play Hotel Cristobal.
Mr. Potts is a graduate of the Yale School of Drama.
Bassam Saba
Originally from Lebanon, Bassam Saba studied at the Lebanon National Conservatory on the oud (fretless lute), nay (reed flute), and violin. In 1976, Saba moved to France, where he received his B.A. in western classical music and flute performance at the Conservatoire Municipal des Gobelins in Paris. In 1979, he moved to Moscow where he received an M.A. in western flute performance and music education (1985) at the Gnessin Musical Pedagogical Institute. After finishing his studies in Moscow, he moved back to Beirut, where he served as music director of the Beirut Symphonic Band and performed with singers such as Fairuz, Majida al-Roumi, and Wadi al-Safi and such composers as Ziyad Rahbani, Marcel Khalife, and Toufic Farroukh. He has performed as a soloist on classical flute in concert settings in Moscow, Kiev, Leningrad, Paris, Japan, Beirut, and the United States.

In 1990, Saba moved to New York and joined Simon Shaheen's Near Eastern Music Ensemble, playing traditional classical Arab music. He also joined Shaheen's group al-Qantara, where he demonstrates his unique ability to play the western flute in microtonal Arab music. As an ensemble player, Saba has become one of the leading figures of Arabic music in the United States, playing with such musicians as saxophonist Sonny Fortune, percussionists Jamey Haddad and Glen Velez, bassist Michael Richmond, and other internationally renowned figures. At a memorial concert for September 11, 2001, called "Musicians for Harmony," which was broadcast live on National Public Radio (2002), he shared the stage with the Guarneri String Quartet, the Juilliard String Quartet, and the Shanghai String Quartet, representing his group Musique sans Frontières. He participated with al-Qantara opening for Sting's concert at Jones Beach Theater (2001). He also played nay and flute in the "We Are the Future" benefit in Rome with Quincy Jones, Herbie Hancock, Kazim al-Sahir, and Simon Shaheen (2004). He has recently conducted orchestras for Kazim al-Sahir and Sarah Brightman.

As a soloist, Bassam Saba is considered one of the outstanding nay players in the world and has toured throughout the Middle East, Europe, North America, South America, Australia, Africa, and Japan. Most recently, he has performed with Yo-Yo Ma's Silk Road Ensemble and as a guest artist with Absolute Ensemble under the direction of Kristjan Järvi, premiering a concerto for nay and orchestra composed for him by Daniel Schnyder that is a pioneering advance in the repertoire for the nay.
Kyle Sanna
Kyle Sanna's extensive training in classical and jazz guitar, along with years of experience playing popular and folk music styles (rock, blues, Celtic, bluegrass), make him a very diverse and responsive performer and recording artist. He has won awards as Outstanding Performer from the University of Oregon's School of Music and from the Reno Jazz Festival.
Previous to teaching at the New York Conservatory of Music, Mr. Sanna was a faculty member of the American Music Institute and the Young Artist's Academy, teaching guitar and directing ensembles. He continues to give clinics at music schools throughout the country. As a composer, he has worked extensively in theater and film, and his music has been performed throughout the U.S. and in Canada and France. He was also a 2003 Finalist in the Young Film Composers Competition.
Mr. Sanna studied music at the University of Oregon (B. Mus. cum laude) and in Lyon, France, at the Université Lumière. His teachers include Pat O'Brian, Mike Denny, and Don Latarski (guitar), and Steve Owen and Gary Versace (jazz).
Alex Sopp
New York-based flutist Alex Sopp has premiered and recorded dozens of new works and collaborated with some of the most exciting composers and songwriters of our time, including Nico Muhly, Björk, Philip Glass, Judd Greenstein, Mark Dancigers, and The National. Ms. Sopp is responsible for commissioning many new works of solo and chamber music featuring the flute, several of which will appear on an album soon to be released on the New Amsterdam label. She performs with the NOW ensemble, ACME (American Contemporary Music Ensemble), the Mark Morris Dance Group, Continuum, Free Speech Zone, The Knights, and many other ensembles in New York. A native of St. Croix, Virgin Islands, Ms. Sopp is a graduate of The Juilliard School, where she received her undergraduate and master's degrees.
Michael Tree
Michael Tree was born in Newark, New Jersey, and received his first violin instruction from his father. He later studied at the Curtis Institute of Music with Efram Zimbalist, Lee Luboshutz, and Veda Reynolds. In 1954, the New York Herald Tribune wrote, "A 20-year-old American violinist, Michael Tree, stepped out upon the Carnegie Hall stage last night and made probably the most brilliant young début in the recent past…the violinist evidenced not one lapse from the highest possible musical and technical standards." Subsequent to his début, Mr. Tree appeared as violin and viola soloist with the symphonies of Philadelphia, Los Angeles, Baltimore, New Jersey, as well as other major orchestras. He has also participated in leading festivals, including Marlboro, Casals, Spoleto, Israel, Taos, Aspen, and Santa Fe.
Since 1964, as a founding member of the Guarneri String Quartet, Mr. Tree has played in major cities throughout the world. In 1983, Major Ed Koch presented the Quartet with the New York City Seal of Recognition, an honor awarded for the first time. One of the most widely recorded musicians in America, Mr. Tree has recorded over 95 chamber music works including ten piano quartets and quintets with Arthur Rubinstein and two complete Beethoven quartet cycles. These works appear on the Columbia, RCA, Sony, Philips, Nonesuch, Arabesque, and Vanguard labels. His television credits include repeated appearances on The Today Show and the first telecast of Chamber Music Live from Lincoln Center. Mr. Tree serves on the faculty of the Curtis Institute of Music, The Juilliard School, the Manhattan School of Music, and the University of Maryland.
Tony Trischka
"You think about somebody like Miles Davis or John Coltrane, people who learned everything about jazz and then digested it and it came out a new way. I think Tony's very similar; he's that kind of figure in the banjo world. Tony was ahead of his time. My springboard was Tony Trischka, and without Tony, none of what's happened with my music would have happened." – Béla Fleck
Tony Trischka is one of the world's most innovative banjo players. Throughout his thirty-year career, Tony has defied boundaries and explored a wide variety of genres commonly considered out-of-bounds for the banjo. Tony first broke the banjo barrier with the release of his debut album, Bluegrass Light, in 1973. Both traditional tunes and original tracks shimmered with a fresh energy: the fusion of bluegrass, jazz, rock and classical. In a flash, banjos, fiddles and mandolins were hanging out with saxes, electric guitars and synthesizers.

Tony's music evolved, venturing into more sophisticated chordal territory and grabbing a bunch of people with his unexpected, anything-can-happen attitude. In the years since, Tony has continued his envelope bashing, blending his talents in the studio and on-stage with such forward thinkers as Béla Fleck, David Grisman, the Violent Femmes, members of REM, William S. Burroughs and Leftover Salmon.
.
Elliot Villar
Actor Elliot Villar's most recent roles in New York include Elegba in The Brothers Size at The Public Theater (2008 Lucille Lortel nominee for Best Play) and Demetrius in the New York Shakespeare Festival's A Midsummer Night's Dream.
Regionally, he has appeared at The Yale Repertory Theatre, The Shakespeare Theatre of Washington DC, The Studio Theatre, and the Colorado Shakespeare Festival. He received a BA from Vassar and a MFA in acting from the Yale School of Drama.
Karim Wasfi
Born in Cairo in 1972 to an artistic family, Karim Wasfi, the Director, Soloist, and Artistic Adviser for the Iraqi National Symphony Orchestra (INSO), began his study of the cello at age six at the Music and Ballet School in Baghdad, Iraq. He subsequently received his Artist Diploma from this school and M.A. and Performance Diplomas in Cello, Electronic Music Technology, and Conducting from the Indiana University School of Music in Bloomington. Mentors include Janos Starker, Mstislav Rostropovich, and Aldo Parisot. Mr. Wasfi has been the recipient of various awards, including the Eva Heinitz Cello Scholarship at Indiana University as well as the Lord Yehudi Menuhin Scholarship at the Royal Academy of Music.
Mr. Wasfi has served as Principal Cellist of several ensembles, including the INSO, Cairo Symphony Orchestra, and the Egyptian Chamber Group. He has also held positions as Assistant Principal Cellist in Bangor and Portland, ME, Columbus, OH, and Evansville, IN, and has served on the faculty at the Music and Ballet School of Baghdad, Indiana University School of Music, and the Cairo Academy of Arts.
Invested in cross-cultural exchange and mutual understanding through music of different genres, Mr. Wasfi has given solo concerts in the United States, Europe, Egypt, and Iraq, appearing on numerous networks including CNN, NBC, BBC, and Al-Jazeera. Humanitarian efforts include volunteer concerts and music therapy sessions at homes for the elderly, orphanages, and mental health institutions. Mr. Wasfi also served as Head of the British Council in Baghdad from 2003 to 2004.